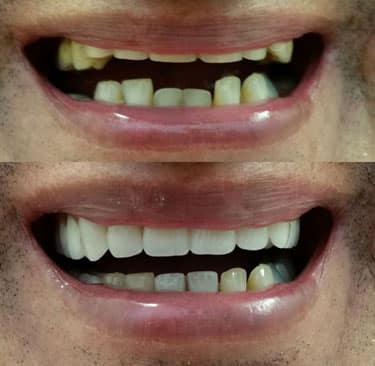 What is an Immediate Denture?
These are full dentures that are inserted immediately following the removal of your natural teeth, on the same day. They are your prosthetic teeth that require adjustment once the swelling has gone down from your gums. The overall healing period is approximately 8 weeks. The immediate denture is made before you get the teeth extracted. The dentist extracts the teeth and immediately inserts the new denture into your mouth so that you have teeth that are cosmetic to your face. You have your confidence and smile back, and you do not have to walk around without your teeth during the healing process.
How do we do Immediate Dentures?
This involves taking impressions of your mouth while your teeth are still present. Models of your mouth are then produced. Your Dental Prosthetist can then do simulated extractions on the models and place the denture teeth as close to your natural placement possible. They may also be able to correct things about the position of your current teeth which are impeding your oral and overall health. When your teeth are extracted your new denture is ready to be inserted by your dentist. In this way, you never walk around without teeth.
How to adapt to Immediate Dentures?
It is essential that you follow the post-operative instructions of your dentist and Dental Prosthetist very carefully and ensure you attend your follow-up appointments. You will have to wear the new dentures for about three days until the swelling and bleeding are controlled. Soreness is a handicap if you want a well-fitting denture for comfort or tolerance. The Dental Prosthetist will adjust the teeth if you are sore anywhere.
Ensure you follow the oral hygiene instructions provided by your dentist and Dental Prosthetist. It usually includes a frequent rinsing of the mouth with warm, salty water to help control harmful bacteria encouraging healing of the gums.
What about maintaining Immediate Dentures?
Once healing has occurred, usually, a reline is recommended within six months after the new dentures have been inserted. If you do not have a reline, tissue may grow into the denture which will cause you discomfort.
The Dental Prosthetist will ask you to clean your new dentures like your own teeth: twice a day and possibly after meals too. Use a proper cleaner or if you like, liquid dishwashing soap. Make sure you rinse thoroughly, though!! Do not use anything abrasive on your dentures like toothpaste etc.
Contact us today for a consultation we are located in Balcatta WA and Hillarys WA
Call 9440 1540 for a FREE CONSULTATION