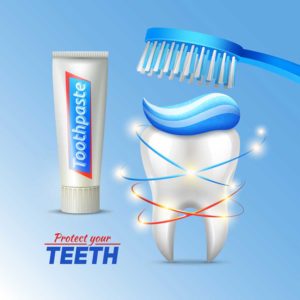 Getting yourself new dentures is but one step to regain confidence and your good looks after you have lost your teeth.
Caring for these new dentures is equally important. This is necessary so you can keep your dentures looking new and your mouth healthy.
Denture care – slightly different from that of natural teeth
Just like natural teeth, dentures also harbour bacteria and cause bad breath if not properly maintained and cared for. But note that there are ways of taking care of natural teeth that could have a bad effect on dentures.
For instance, you should not use toothpaste in cleaning your dentures. This is because toothpaste is abrasive to dentures, thus will create microscopic scratches on them.
These scratches can serve as breeding grounds for bacteria. It starts with food deposits settling into these spots. Build-up of plaque then follows. Bacteria can multiply fast on plaque and can quickly damage your dentures aside from making them unhygienic.
Dentures therefore require daily maintenance by brushing with a recommended denture cleaner to remove food deposits and prevent build-up of stains.
When cleaning dentures, remove them from your mouth and brush them gently on all the surfaces. Use a toothbrush that has soft bristles so that you won't scratch your dentures. Be careful not to damage the bend attachments.  
Moreover,  rinse your dentures after every meal and in between brushings.
Where do you get these recommended denture cleaning tools?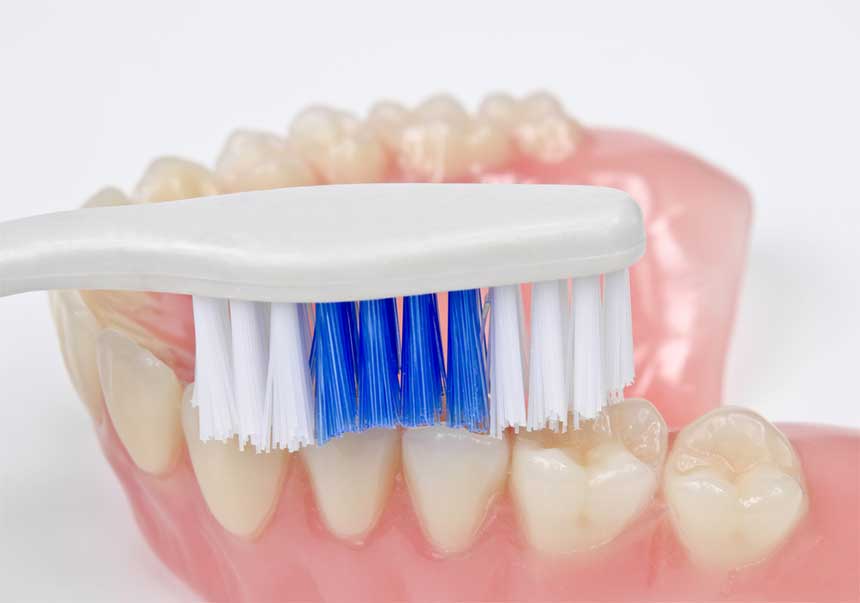 Most clinics will recommend which denture cleaner and toothbrush you should use.
But if you have your dentures made by Direct Denture Care, you are given a black bag containing items that you should use in caring for  your new dentures. 
Our Denture Care Bag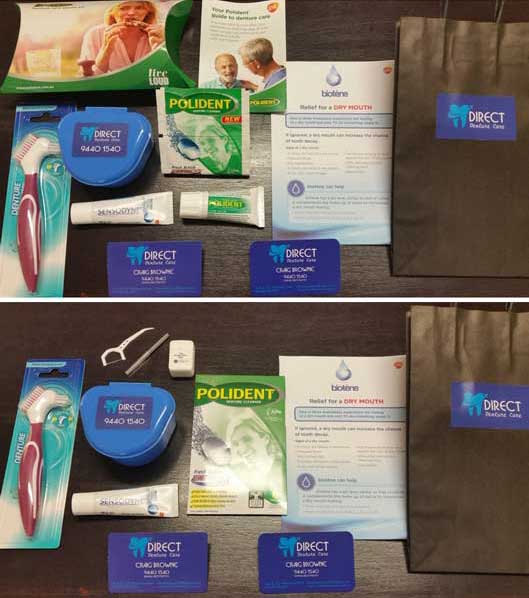 The contents of the bag may differ. Among the items that the bag may contain are a number of Polident denture cleaners, Sensodyne and a new toothbrush you can use on your denture. Depending on whether you had a partial or full denture made, you'll also be given a denture bath.  
Direct Denture Care will also tell you about biotene, a dental hygiene product that comes in form of mouthwash, gel and toothpaste.
What is biotene?
This brings you relief from dry mouth. The mouth becomes dry because of radiation and certain medicines that affect your salivary glands. The mouth becomes drier when you wear dentures.    
Biotene has the same pH level as saliva. It will therefore complement saliva to moisturise the dry mouth. Plus, you won't feel that your mouth is dry
How can you tell if you have a dry mouth?
A sticky, dry feeling is the most obvious indication that your mouth does not have enough saliva.
Frequent thirst is the other sign of a dry mouth. Plus lips will be flaky and dry, flaky and the tongue pink and rough. The person will also have bad breath.
You may also experience a prickly sensation in the mouth. The tongue will tend to stick against the upper half of your mouth and you may find it difficult to chew.
Sample biotene products for dry mouth
Biotene comes in the following forms:
Oral Balance Gel – this is the most concentrated formula of biotene and provides immediate and long lasting relief.

Mouth spray – provides  immediate relief and can be used anywhere .

Mouthwash – this one brings immediate and long lasting relief and helps freshen your breath as well.

Biotene toothpaste – specially formulated to protect your teeth from cavities.
Some of the most popular biotene products include Polident and Sensodyne.   
This penetrates the biofilm and kills up to 99.9 percent of odour causing bacteria. That's why this is recommended by most dental clinics, being more effective than regular toothpaste.
Polident also helps remove tough stains and the mild plaque off your dentures. It is also protective and will help maintain the original colour of your dentures.
Plus, it has a fully non-abrasive formula, meaning it cleans the denture without  scratching it.
Sensodyne is known to repair and protect sensitive teeth. There's a new NOVAMIN Sensodyne formulation that forms a harder layer over vulnerable areas of sensitive teeth.
By brushing twice a day, the added NOVAMIN and the  sodium fluoride creates an even harder reparative layer over the exposed dentine. This brings sustained relief and is recommended for people with partial dentures and sensitive teeth.