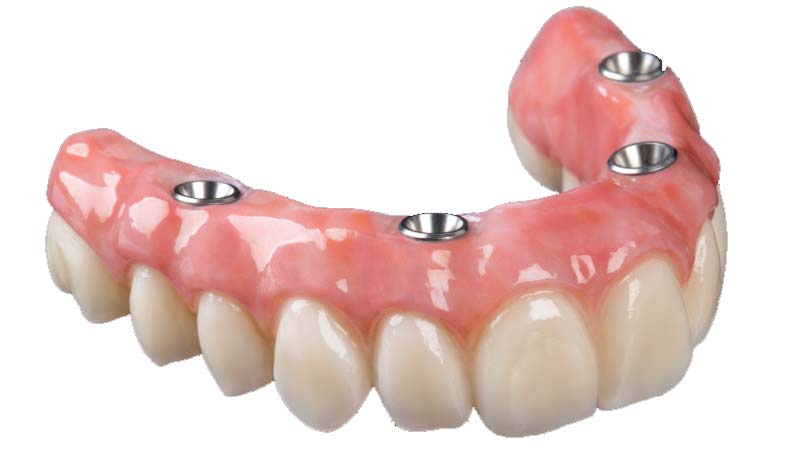 The main concern of people with dentures is its stability. No one wants the dentures to move in his mouth.
Whether full or partial, regular dentures for the upper jaw are normally stable enough. They typically do not need additional support. In contrast, dentures on the lower jaw are less stable.
Implant retained dentures solve this problem. They offer stability for anchoring full or partial removable dentures.
Even though a regular denture of the upper jaw tends to be sufficiently stable, you can still replace it with an implant retained denture if you so desire.
What are Implant Retained Dentures?
For optimum teeth replacement, your dental prosthetist may use dental implants to support full or partial dentures.
The dental prosthetist works hand-in-hand with the dental prosthetist in putting dentures in your mouth. First, holes are drilled into the jawbone and attach the male implants. The prosthetist makes the denture with the female implant to clip into the male implant in the jawbone.
An implant-supported denture is a type of overdenture that's supported by and attached to implants rooted into the jawbone.This differs from a regular denture which normally rests on the gums and is not supported by implants.
These implant retained dentures are particularly useful when a person has no teeth in his jaw. In lieu of teeth, you must have enough bone in the jaw to support the implants.
Each implant retained denture has special parts that typically snap on to attachments placed on the implants.
The implant retained dentures will stay in place even if you chew or converse. But no need to worry. The firmly supported denture is very easy to remove and clean. It is actually recommended that you remove the denture when you go to sleep and at other times of the day for cleaning.
Make it a habit to clean your implant supported denture. And while you're at it, rinse your mouth and clean the gum area as well.
What are ball-retained dentures?
One type of implant retained dentures is ball-retained dentures. These are made of an acrylic base that looks like gums. Your dental prosthetist will attach acrylic teeth or porcelain that look like natural teeth to the base. These dentures need at least two implants for support.
How They Work
Ball retained dentures are also referred to as stud-attachment dentures. The implants have ball shaped attachments in most cases.
The implants in the jawbone each holds a metal attachment that fits into a corresponding attachment on the denture.
These denture attachments (male attachments) fit into sockets (female attachments) on the denture. There are cases where the denture holds the male attachments while the implants hold the corresponding female attachments.
Benefits of implant retained dentures
These implant-supported dentures are effective and cost-effective. They are a major improvement from the regular removable dentures.
Let's have a look at some benefits when you use this type of dentures.
1. Stable even when you are chewing. Supported dentures function just as your natural teeth. You can chew food confidently without the fear that you'll damage them.
2. The stability boosts your confidence. You are assured that your dentures will not move unintentionally especially in the middle of a conversation.
3. Less seepage of food under the denture. There is little room for food to seep beneath the denture.
4. Superior aesthetics. Implant retained dentures minimise wrinkles around your mouth by restoring lost lip-support. This ensures that you look the same as when you had your natural teeth.
5. The confidence of having superior facial aesthetics and the assurance that your dentures won't let you down naturally enhances your social interactions.
6. Implant retained dentures markedly improve your ability to chew – you can enjoy food again by eating virtually anything you want.
7. Increased preservation of natural bone. The dentures are fitted in place and this helps preserve the bone left in your jaws.
8. You also won't need to use any denture adhesives, sticky gum, pastes or powders to enhance your denture.
If your teeth have some problem and you are considering dentures as an alternative, implant retained dentures are your best option. You may perhaps be wondering where to begin.
Here's some heads-up.
How to Choose a Dental Prosthetist
You'll have to first choose a dental prosthetist. He or she will be your advisor and therapist. But how do you get the right DP?
Visit www.adpa.com.au to get a complete list of all the DPs in your locality. Alternatively you can refer to Yellow Pages on the internet or to your local Yellow Pages.
The first consideration in your criteria is that the dental prosthetist should be a member of the Australian Dental Prosthetists Association, ADPA.
All association members have agreed to comply with a code of practice that stipulates their obligations and regulates their conduct. This utterly safeguards your rights as a patient.
Summary
Any denture will give you a second chance and the freedom to smile even after your natural teeth are no longer there.
However, an implant retained denture gives you a completely different experience and allows you to eat comfortably and confidently. What's more, it gives you greater confidence to smile. That's why it's best to say 'yes' every time you and a loved one need implant retained dentures.