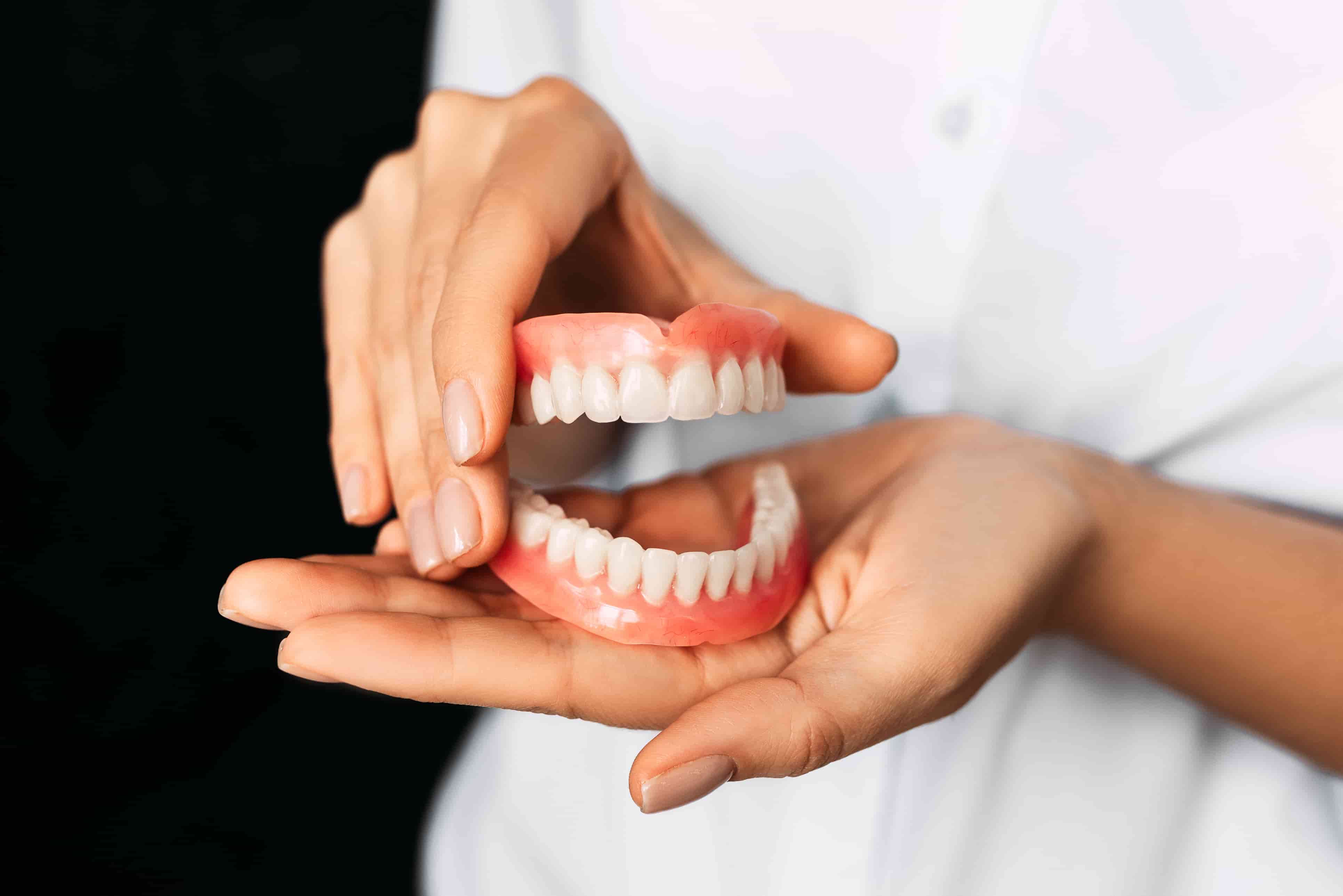 Dentures are prosthetics made to look exactly like an actual human tooth, designed to replace the real thing when needed. The vast majority are supported by surrounding tissue and can be removed, although fixed/bonding versions are also available. Dentures are often made out of acrylic, nylon, or metal, and are purpose made to fit and work exactly as normal teeth would. They can be utilised to replace anything from one tooth to an entire set of teeth. They are also known by the term 'false teeth'.
Why do people need dentures?
People can need dentures for a whole variety of reasons, with the most common being the loss of their natural teeth due to decay or injury. Tooth decay is a gradual process that happens over time, especially if you do not look after those pearly whites with proper oral hygiene. While the need for dentures due to decay is more common in older people, anyone at any age can require dentures, for example; a sports-related injury. Even if a person only loses one or two teeth, it can affect how they chew and speak on a day-to-day basis. Certain types of food may become difficult to chew and certain words will become hard to pronounce, hence why some turn to dentures as a fix. Finally, underdeveloped or even missing teeth can also result in the sagging of facial muscles. Losing teeth can appear to alter the shape of your face, which can damage self-esteem and confidence. Another result of missing teeth is your normal teeth can take over the gap or where you have lost your tooth/teeth. This may result in your normal tooth/teeth becoming crooked and difficult to fit a denture into the gap. Your dentist will have to take out the crooked tooth and then a denture made by a Prosthetist. 
How long do you have to wait to get dentures?
Some people can be understandably anxious about having teeth removed, with the plan to have dentures fitted at a later date. The gap between removal and fitting the replacements throws up a number of questions involving things such as speaking, chewing, and general appearance. Custom-made dentures are typically fitted between six to eight weeks after the teeth are removed, although it can take between three and six months for them to fit properly. This gives the tissue around the gum enough time to heal, as well as guaranteeing a good fit for the eventual dentures. So, what can you do in the time between removal and fitting?
Immediate dentures 
These are dentures that need more adjustments as they are fitted when the other teeth are removed. The immediate dentures will have been created before your existing teeth are even removed, meaning that the dental prosthetist can simply take your real ones out and replace them straight away. Not only does this give you a toothy white grin to walk around with as per normal, but it also helps to keep the shape of your face and avoid shrinking of the jaw. Your immediate dentures may even see an improvement in your mouth, as the dental prosthetist can correct positioning issues. This can make for an even better smile and easier oral cleaning. However, you will have to keep the dentures clean still, as you would with a normal set of teeth. These new immediate dentures will need to be worn for around the first 48 hours to ensure the gums have settled down (no taking them out at night time). 
Types of dentures:
Complete dentures 
Also referred to as false teeth, complete dentures refer to full sets of replacements. Conventional dentures are made and ready to go within three weeks (dependant on the patient, these can be made sooner if need be) while immediate dentures can be fitted straight away. Complete dentures are to be used when a person has lost or had an entire set of teeth removed. 
Partial dentures 
These are used to replace a missing tooth or missing teeth, rather than a complete set of teeth. If there are still some real and healthy teeth within the mouth, then partial dentures can be used to fill the gaps. Filling gaps from missing teeth is important to do as soon as possible to prevent other teeth moving.
Direct Denture Care 
Dentures are custom made for every patient, making it an extremely personal process unique to each person. As a result, it is important to put your faith and trust in a dental practice with a proven track record of high-quality customer care, fantastic results, and years of positive experience under their belts. Our dedicated team at Direct Denture Care has all of that and more. For the best denture services in Perth, including new cosmetic dentures, implant-retained overdentures, partial dentures, denture relines, emergency denture repairs or custom mouthguards, and more, contact Direct Denture Care today on 08 9440 1540 for the Balcatta Clinic and (08) 9401 1195  for the Hillarys Clinic.